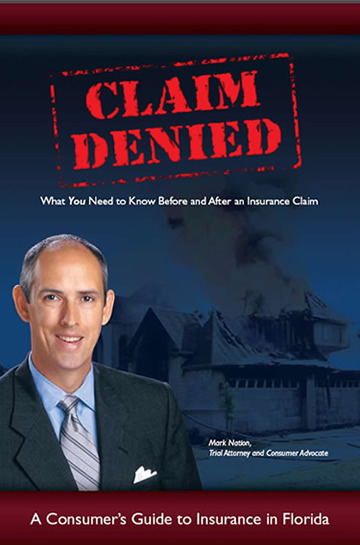 What You Don't Know CAN Hurt You
Many times, an insurance company can phrase a denial in such a way that the policy holder believes that the denial is legitimate, when in fact it is not.
Evaluating an insurance company's denial is not something a policy holder should do on their own. Evaluating a denial takes experience, and a knowledge of how the courts actually apply the law.
Many denials that sound legitimate at face value are not. I've seen many examples in my career where a denial may sound legitimate, but it proved not to be.
Why You Should Read This
I live and breathe insurance claims, and I truly love what I do.
Since the beginning of my legal career, I've evaluated and litigated thousands of insurance claims on behalf of policy holders in state and federal courts.
Day after day, month after month, and year after year, I've met with policy holders, explained their coverages to them in simple terms, and represented them in court in cases against their insurance companies.
Whether it was an automobile, health, life, homeowners, condo, business owners, or disability claim, I've had the honor and privilege of standing with men and women who dared to stand up and fight their insurance companies.
Grinding through all those cases, one sad fact stands out to me. Across the socio-economic spectrum, people have only a vague notion, at best, of how insurance works, what insurance they have, what insurance they need, and what to do if an insurance company denies or delays a claim.
Flood Insurance Coverage
Most homeowners insurance policies do not cover damage by "flood."
It's important to understand that not all water damage is flood damage. A broken water line on your clothes washing machine may flood your home, but it is not "flood" damage.
Likewise, rain water that comes through a hole in your roof or a window is not "flood" damage.
About the Author
Mark Nation is a civil trial lawyer and consumer advocate who has litigated thousands of cases throughout the State of Florida against many of the world's largest insurance companies. He was born and raised in Central Florida. Mr. Nation attended the University of Florida College of Law where he graduated with Honors and was an Editor of the Law Review.